On Sunday at the Microsoft Theater in Los Angeles, Giveon Dezmann Evans, better known by his stage name Giveon, performed "Lie Again" off his sophomore album Give or Take for the audience (June 26). Additionally, he made light of the network's disruption of his microphone during his performance and called out Lil Nas X for his feud with it.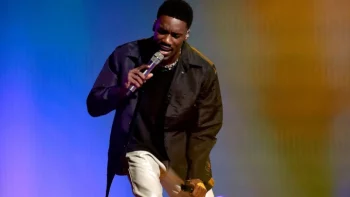 An Unexpected Technical Issue…
The Grammy-nominated "Take Time" performer wrapped up the 2023 BET Awards on Sunday at the Microsoft Theater in Los Angeles, captivating the audience with some of his fan favorites (June 26). The 27-year-old singer offered a relaxed performance with a truncated version of his Billboard Hot 100 top 20 smash "Heartbreak Anniversary," "For Tonight," and "Lie Again," accompanied by a live band, while wearing a black studded button-down, white jeans, and black boots.
Giveon had to awkwardly swap mics before singing the last song since he appeared to be experiencing technical difficulties while singing. He joked on Twitter after his appearance at the 2023 BET Awards, "Not @BET destroying my mic."
In addition, he made light of another musician's dispute with the network by saying, "@LilNasX I understand it!!!!" If you're not familiar with the situation, LilNas is having some serious issues with BET and recently said that his ire against the BET Awards predates his lack of nominations for this year's ceremony.
Lil Nas X's Problems Are Real…
Giveon may have poked fun of BET's technical difficulties on his album "Take Time," which received a Grammy Award nomination for "Best R&B album," but naming Lil Nas X in the post made perfect sense given the rapper's feud with the network. In a recent interview with Rolling Stone, Lil Nas X expressed his ire at the network for not just allowing him to perform last year but also for this year's event's lack of nominees.
This includes the week's release of his brand-new song, "Late To Da Party," which begins with the cry "fuck BET." The rapper has been hinting at the upcoming song for several weeks and has been vocal about his grievances with BET, arguing that he is truly trying to make a statement "about the greater problem of homophobia in the black community."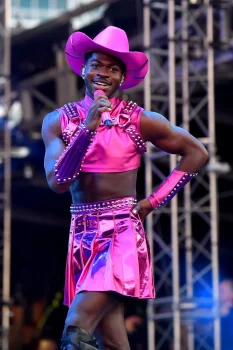 His remarks that "My relationship with BET has been unpleasant and tense for quite some time" were featured in the interview. Contrary to what most people might imagine, it didn't begin with this year's nominations. In spite of my promises that I was not a satanist or devil worshiper and that my performance would be suitable for their audience, they did let me to appear on their show last year.
They claim that they shouted for me the loudest that night, he said. The BET Awards crew, however, expressed their displeasure with some members of my team right after the performance after learning that I had kissed my dancer on stage.
Not only that, but one unidentified member of that team added, "That was really messed up," before I could even respond when one of the BET producers approached me after [Nas] left the stage. A different team member stated:
"It didn't feel like a holiday. They said they felt taken advantage of in their reply, which I received. It almost seems like they didn't mind 'Old Town Road' Lil Nas X being a sweet type of gay artist, but this is just too much. BET, in my opinion, is intensifying their focus on their mistakes.
However, in response to the criticism, BET stated that "Since last year's performance, we have been in touch to work on future projects. His prior performances continue to excite us, and we continue to wish him success.

The singer appeared to have quoted Lil Nax X in jest when he claimed that his microphone was destroyed at the BET Awards, so yes, his problems are bigger and more serious than Giveon's recent joke about the technical difficulties at the 2023 BET Awards. What are your thoughts on the most recent tweet?