First, I would like to say "Thanks" for reading this. If you land on this page here, you definitely are finding the best angle grinder right now. Although there are many grinders out there in the market (and of course some of them are not worth your money), you can still have a chance of getting the right one, whether for your personal or professional use.
List Of 9 Best Angle Grinders In 2022 Review:
#9. 7.5-Amp 4-1/2-Inch Paddle Switch Angle Grinder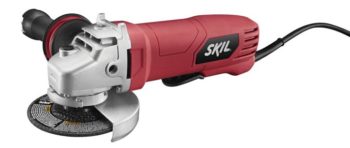 I'll start off the list by introducing the first one. SKIL provides this. Some of you may be familiar with SKIL, while others may not. When it comes to tools, SKIL is reputable. It is true that this 9296-01 is strong. It has a maximum speed of 11,000 RPM (Rounds per minute). The item weighs 6.1 pounds, which makes it lightweight enough for us to hold and carry out our task uninterrupted at all times.
#8. 1375A 4-1/2-Inch Angle Grinder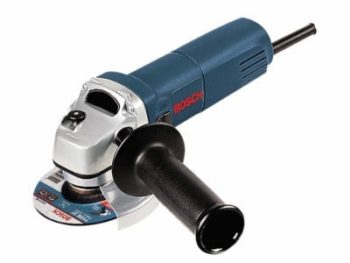 If you prefer a lightweight one, then this one from Bosch is even better than the one mentioned above. Weighing only 5 pounds, and features 6.0 amp, this angle grinder can perform up to 11,000 no-load RPM. As you can see, even it is small, but it can provide maximum power for your need. The side handle can be adjusted. Still, it is recommended that you change it to the original side for maximum comfort. Compact, powerful, and comfortable, these are all you need when choosing the right angle grinder.
#7. W9-115 8.5 Amp 10,500 RPM Angle Grinder
You will notice one annoying issue with an angle grinder if you are familiar with them: the locking position. The majority of the folks I know frequently lament the lack of sufficient locking positions. Fortunately, the Metabo W9-115 has 7 locking positions that are actually tool-free adjustable guards, which is more than enough.
Additionally, if AD/DC safety is important to you, this one is the best choice. It enables you to feel the most at ease possible about your safety and is appropriate for both AC and DC.
Last but not least, in contrast to the other two, this one is somewhat powerful because it has 8.5 Amp, even though its top speed is just 10,500 rpm. Check it out for more details!
#6. DW840 7-Inch Medium Angle Grinder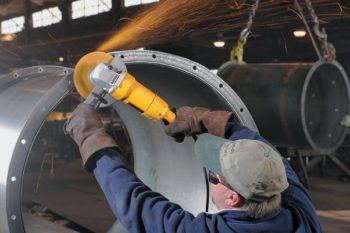 If you just finished reading number #9-#7 above and still feel dissatisfied with them because you want a more powerful tool, then this one is just right for you. This one from DEWALT is very powerful since it comes with 13.0 Amp.
The only one downside is that the maximum speed is only 8,000 RPM. So if you really think you want a fast angle grinder, then you might need to take a look for another option on the list.
#5. M18 Fuel 4-1/2″/5″ Pad, Bare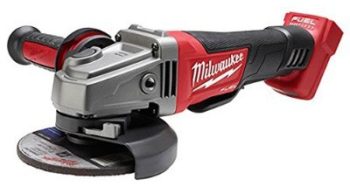 You must be familiar with Milwaukee, so I won't bother to emphasize how high-quality it is. This Milwaukee 2780-20, which is in the top 5 on the list, is renowned for its dependability and ease of use.
Its color is gorgeous to me. A red hue as a tool makes it very obvious and apparent.
#4. G12VA 4-1/2-Inch 13-Amp Variable Speed Angle Grinder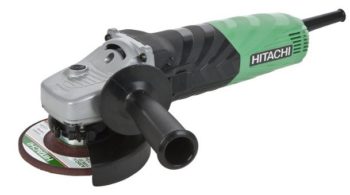 For a very long time, Hitachi has been a well-known Japanese firm for its technology. Powered by 13 Amp and 1,500 Watts, the Hitachi G12VA operates. Additionally, the handle has an anti-vibration to ensure that the user can grip the tool firmly without shaking.
The speed switch also offers a variety of settings for various tasks and applications. There are several Hitachi variants available with amp differences ranging from 5.1 to 13 amps. You can examine and contrast them!
#3. Quick Lock-On 13.5 Amp 2,800-11,000 RPM Angle Grinder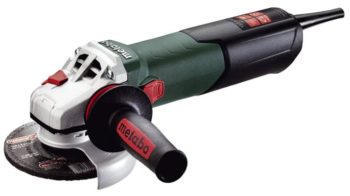 As stated very clearly on the title, this one can run from 2,800 to 11,00 RPM with 13.5 Amp. Being able to select the speed is very advantageous when you perform a varied range of applications or performance.
As this one is built-for-last, it has a protection system for excess heating that comes from too much usage. Therefore, you do not need to care about the durability of this item. Even you might think that the price is a bit high compared to the other on the list, but my word for this one is: it is surely worth its price!
#2. 4-1/2-Inch 11-Amp Angle Grinder Kit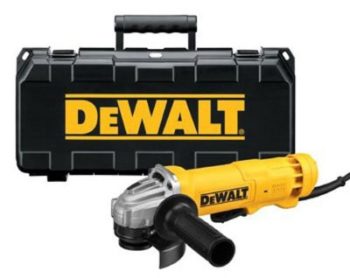 To the nearest top of the list, we have another one from DEWALT. DEWALT DWE402K comes with the Kit Box. As you are considering about having a tool, it is always a good idea to get the kit box to keep your things organized. Without a doubt, this is one of the best angle grinders in the market right now.
Moreover, the best thing about this item is that there is a system which they called "Dust rejection system." This one will make sure your tools are always clean and neat to prolong its durability.
On top of that, you will never worry about making a rotation for this. As it comes with a one-touch guard that allows you to rotate it in 360 degrees. Last but not least, safety is very important. This is why there is a lock prevention so that the chance of unintended startup is reduced and prevented.
#1. 4-1/2-Inch Angle Grinder With Aluminum Case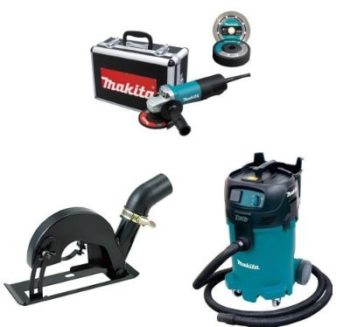 This Makita angle grinder is at the top of the list and has earned the title of best angle grinder due to the fact that it is packaged. One Makita 9557PBX1 4-1/2-Inch Angle Grinder with Aluminum Case, one Makita VC4710 12-Gallon Wet/Dry Vacuum, and one Makita 193794-5 are included with your purchase. If you're a professional, this bundle's price is ideal for you. It is also a good opportunity to learn how to use all of these tools at once if you are new to using angle grinders and other tools of this type.
Makita is a well-known brand when talking about home tools. You know it, I know it, everyone knows it. And all I can tell is that, for sure, this bundle is an excellent choice for you. For further detail, check it out right now.